To me, travel isn't travel without good, local food. I've eaten at quite a few restaurants all over Europe, but some rose high above the rest. Here are my top picks:
1. Chartier
| Paris, France
Paris did not steal my heart the way I hoped it would, however the
Boullion Chartier
restaurant stole it in ways I'd never expected. The seating area of the restaurant used to be a ballroom - dinner in an old Parisian ballroom? Why yes! The prices are unusually low for the city and it is always packed to the brim, dare I say with more locals than tourists. Check out
this charming video
to see the restaurant in action.
My father (who has passed down to me his love of food and has travelled so much he needed to have pages added to his passport) once told me that if you're having trouble choosing a restaurant, pick the one with the longer line. His mentality is that if this many people are waiting, whatever they are waiting for has to be good, right? This idea proved itself to be true when we came across the very long line for Les Quinze Nits in the Placa Reial in Barcelona. After waiting forty five minutes (on a hot, beautiful summer night...we really didn't mind waiting at all) we were seated at about 9:45 PM. The great Spanish food, location, and service all came together for a fantastic eating experience. I'd recommend this place to anyone!
Barcelona gets two thumbs up from me when it comes to food. Catalana was right down the street from our apartment in fab neighborhood of Xiemple. Its convenient location to us and out of this world Tapas resulted in us eating there three different times. One of those nights was so crowded that we actually just
stood
at the bar to eat! It's that good!
4. Lokal | Prague, Czech Republic
I have this weird obsession with eastern European food. I love it! It is hearty and greasy and terrible for you and I would probably be on my knees begging for vegetables after a week or so, but man is it good. I sat at the
Lokal
with my new Australian hostel mates and enjoyed some really awesome Czech food - and it's CHEAP, guys. REALLY CHEAP, and traditional as it gets; they didn't even have an English menu!
Aux Deux Fondues is definitely the most bizarre and memorable restaurant I've ever been to. There is lingerie hanging from the ceiling, and the drinks are served out of baby bottles, waiters were passing out free shots all night, and when they serve ice cream they
may
use a banana and awkwardly placed whipped cream to make your desert resemble something...private.
I don't understand this place.
I just don't get it, and that is precisely what makes it SO AWESOME. The fondue is good and fun and moderately priced (for France, at least) considering the amount of food you get. Go with a large group of friends, be loud, be crazy and drink your wine (or in my case, coke zero) out of baby bottles until you can't drink no mo'. Just embrace the weirdness, it makes everything more fun.
6. Elaia - Athens, Greece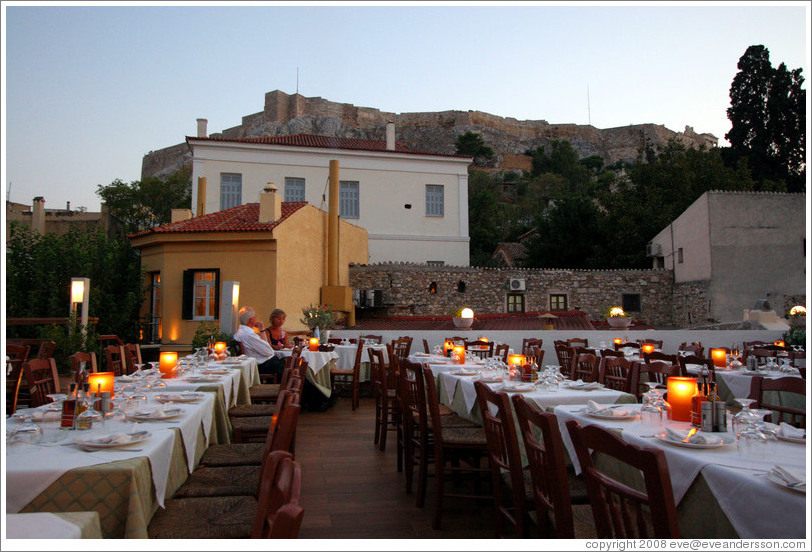 Hands down, the best Moussaka I've ever had. The atmosphere at
Elaia
only made it better: In the heart of the plaka, you climb up to the roof and have a view of the acropolis in one direction and a stunning view of Mount Lycabettus in the other. We were there in late October and it was warm and breezy. I'd go back in an instant!
7. Wagner | Frankfurt, Germany
Just looking at this photo makes me miss Frankfurt so much. If you're looking for traditional German food, Wagner is the place to go. It's always packed to the brim, waiters carrying glasses of Frankfurt's famous "Apfelwein" (Apple Wine) out to the tables four and even five at a time.
Have you eaten at any of these places? What are your favorite European eateries?? Please share!!