After this trip, Turkey will always have a special place in my heart. I thought I'd take the time today to list the highlights of our Istanbul adventure in order to help those considering traveling to Turkey in the near future. This is a short list of things we really enjoyed, but if you're traveling to Istanbul soon and would like more recommendations…please don't hesitate to shoot me an email!

FIVE THINGS YOU GOTTA DO IN ISTANBUL
1. Bring Out Your Inner History Buff at the Hagia Sophia
The Hagia Sophia, or Aya Sofya, is an incredible building that has really seen it all. Istanbul is, after all, the seat of four world empires: The Byzantine, Roman, Latin, and Ottoman Empires to be specific. If you're a history buff like me, this building is like one ginormous candy store. Originally built as a Christian church way, way back in the Byzantine empire (You know, when Istanbul was Constantinople…I'm not the only one singing the They Might Be Giants song in my head right now) it was later converted to a mosque after the city was conquered by the Ottomans. Subsequently, visitors will see a fascinating mix of Christian and Islamic themes, and the mosaics uncovered on the walls and ceilings are absolutely incredible.
2. Bask in the opulence of Topkapi Palace.
When I had been researching this trip online, numerous sources told me to steer clear of Topkapi palace because of the crowds. Something fascinated me about this place, however, and it was so close to our hotel I knew we had to go. We went in February, low season, and in the morning, and the place was far less than crowded…it was actually our most enjoyable experience of the trip! My advice would be, should you be going during high season, to choose a weekday as opposed to a weekend and go right when it opens at 9 AM. Go straight for the Harem, which is the most popular part of the palace to tour and for good reason. It was incredibly fascinating…each room more lavish and decorative than the next. You learn some crazy things, I tell you…such as the fact that the sultan had a minimum of 300 concubines in the Harem at all times. Crazy? I think yes.
Be sure to check out the treasury and the weaponry parts of the palace as well. In the weaponry room you can scratch your head in confused amazement at the Hungarian greatswords that are over 9 feet long, and if you like shiny things you'll definitely find your fix in the treasury. Let's just say I spend several minutes staring, wide eyed and mouth open, at an 86 carat pear shaped diamond the sultan used to wear around on his turban. I would highly recommend renting out the audio guides. We had a great experience with them and it was wonderful to be able to tour the palace at our own pace!

3. Eat at a point-and-choose restaurant.

These no-frills restaurants can be found on just about every street in Istanbul and are great for budget travelers. The food is displayed in the windows, you point at the one you want and then it's served to you on a tray cafeteria style. We ate at these places often to save money and were always blown away by how good the food was.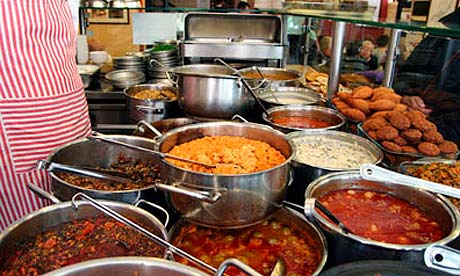 4. Take a ferry to the Prince's Islands

The Prince's islands allegedly got their name during the Ottoman empire when the sultan would send misbehaving prince's there as punishment. Well, going there certainly isn't punishment now! There are no cars on these islands, so your options for transport are horse-drawn carriage, bicycle, or your own two feet. Take a stroll and enjoy the scenery, especially if the weather is nice!
5. Shop at the Grand Bazaar and the Spice Market

The Grand Bazaar is absolutely mind blowing. Supposedly the largest covered market in Europe, you can find just about anything here. Leave the money at the hotel if you just want to window shop…the shop owners are excellent sales people and had us considering purchasing things we'd otherwise have no interest in at all. If you're looking for teas or spices, head down to the Egyptian spice market over by Galata bridge. I bought incredible loose leaf teas and fresh Turkish saffron!

I hope you found this helpful!

Oh, by the way, did I mention I was in Prague right now?
oops.